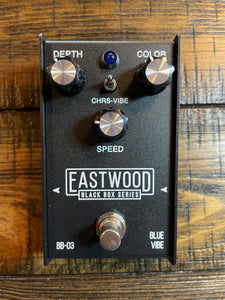 Caldwell Guitars Nashville
Eastwood BB-03 Blue Vibe
Regular price
$149.00
$0.00
Unit price
per
A note from Eastwood:
A 60's Uni-Vibe inspired Chorus/Vibrato pedal. The BLUE VIBE contains all the classic 60s Hendrix sounds, so much so that this pedal was very nearly called DOLLY DAGGER. The slow swooshing Chorus sounds are there, through to the Leslie/Rotary style sounds with faster SPEED settings.

COLOR control only works with the Chorus mode, and it changes the phase relationship of the effected (Chorus) signal in relation to the dry signal.

Not to be outdone, the VIBE mode (Vibrato) has its own sounds and flavour. VIBE is subtle pitch modulation that can go from slow and dreamy to fast and shimmery.

Switch up: Chorus mode.
Switch down: Vibrato mode.
---