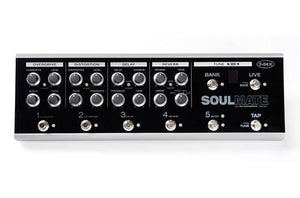 Caldwell Guitars Nashville
T-Rex Soulmate
Regular price
$399.99
$0.00
Unit price
per
*Disclaimer*:
This Item Is In New Condition, Light Use, Sealed In Box With Plastic Wrap
A Message From T-Rex Effects:
We named it SoulMate because you can always depend upon it. At all times, through good and bad, it is always there to help you keep the ball rolling.
The T-Rex SoulMate combines 5 pedals, a tuner and an integrated switching system in one. The included effects will give you all the bread and butter sounds you need and then some, and it will make you feel right at home when you start exploring the sounds.
The SoulMate can be used as if it was 5 pedals super glued together, but there´s more – the integrated switching system will let you activate any combination of the effects by a single press on a footswitch.
With 10 presets available, you are now free to do the "fretboard dance" and stop doing the "pedal dance".
The effects are modified versions of some of our most popular pedals, and they have been carefully designed to work together. We even upgraded numerous components in the signal path for a fuller, bigger sound, and the dry signal is kept fully analog all the way through.
And we did not forget about all you two-amp players. The output of the SoulMate is stereo, so it splits your signal automatically.
THE EFFECTS
The overdrive, with its "Møller"-esque tone, is for low gain sounds and the distortion picks up the pace with more gain, that can be set for an aggressive, cutting tone or one that is sweet as honey… yellow honey.
The delay will give you everything from a slightly smooth, vintage delay to a modulated echo reminiscent of our Reptile units. The reverb serves up four choices of RoomMate ambience, so there is something for everyone in here.
The boost effect gives your sound guy one less thing to worry about by offering an adjustable volume boost. There´s no sense in doing the solo of your life, if no one can hear it, right? Now they can!
TUNER/FX LOOP
We wanted the SoulMate to act, not only as a great collection of pedals, but also as a complete survival kit.
While the tuner does nothing for the sound - actually, it kills it completely when activated - very few guitarists could do a gig without one. Tuning is just like everyday traffic: Red is "No!" - green is "Go!".
The FX loop is an insert point between the distortion and the delay. It can be used for inserting a volume pedal or for running the SoulMate´s overdrive/distortion in front of your amp and the delay/reverb/boost in the effects loop of your amp. The neatest thing about is that it has an aux power plug, so if you feel naked without that modulation pedal you have played for years, just patch it in and power it up.
We have taken all the essential tools of a working guitarist and stuffed them into a lightweight, easy to use box with the same great tone you get from individual pedals.
Maybe you just realize, that life as a guitarist is easier when you always have your SoulMate by your side, or…in your gig-bag. Now you can take your best mate with you everywhere you go!
YOUR BEST FRIEND
FX loop insert with aux power plug for volume pedal or modulation pedals - after distortion/before delay

Tuner included with display for note and up/down arrows. Mutes output for silent tuning

Based on T-Rex classics - Møller, Mudhoney, Replica/Reptile and Room Mate

Sleek looks, simple to operate, same quality sound as individual pedals

Can be used as standalone pedals or in preset mode via mode switch

Analog dry signal - never goes through AD/DA converters

Comes with a padded bag and power supply

Integrated switching system with 10 presets

No patch cables or multiple power adaptors

Updated signal path for fuller sound

5 effect pedals in one

Stereo output
---